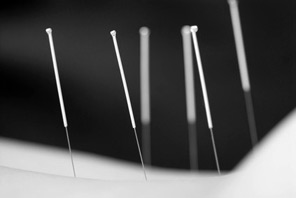 Research shows that having acupuncture during your IVF cycle improves IVF outcomes and keeps you more comfortable and less stressed throughout the process.
Acupuncture & General IVF Support
Acupuncture is usually scheduled weekly during the medicated phase of your cycle. The acupoints stimulated in these treatments have been demonstrated to improve blood flow to the ovaries and uterus. If your ovarian response to the IVF medications is sluggish or if ultrasound tests reveal that the lining of the endometrium is thinner than optimal, extra acupuncture treatments can be scheduled to promote better follicle and endometrial development.
Acupuncture & the Management of Side Effects
During a medicated IVF cycle, your body is being pushed to mature more follicles than occurs naturally in one month. As a result, it is not uncommon for women to experience side effects from the medications and their physical effects. The most common side effects include abdominal bloating, abdominal pain, fatigue, headaches, anxiety and feeling hyper-emotional. Acupuncture can assist in the reduction and management of these and other side effects. In most cases, acupuncture for the treatment of IVF side effects is incorporated into your weekly treatments for general IVF support. (Extra treatments can be scheduled if your side effects are uncommonly severe.)
Acupuncture after Egg Pick-Up
The main surgical procedure undertaken during your IVF cycle is egg pick-up. Clinical studies show that acupuncture treatment undertaken specifically at egg pick-up significantly reduced post-operative fatigue and confusion, reduced abdominal pain, nausea and stress and significantly increased the sense of calm compared to women receiving conventional pain relief.
Acupuncture for Pre- and Post-Embryo Transfer
The protocol most often used utilised is based on studies published in 2002, 2006 and 2007. The Paulus protocol consists of two acupuncture treatments: one before and one after the embryo transfer. Repeated research has shown that that acupuncture given on the day of the IVF embryo transfer increased the rate of pregnancy by 50%.
Acupuncture after transfer
Many women find the waiting time after an embryo transfer and before to be the most anxiety-inducing part of the whole IVF cycle. If you are feeling tired, stressed out during this time, acupuncture can help to calm your mind and to manage the anxiety and stress more effectively.
Acupuncture in early pregnancy
Acupuncture and/or Chinese herbal medicine can be used to support early pregnancy. It is recommended for all women who have undergone Assisted Fertility / IVF treatment and especially recommended for women with a previous history of miscarriage or unstable progesterone levels. These treatments are scheduled weekly for the first 8 – 12 weeks and are designed to strengthen your body and create the best possible internal environment for the embryo to thrive.
The IVF wasn't successful this time, what next?
Your IVF specialist will discuss all the options with you. If you choose to have a short break before starting your next IVF cycle, you can continue acupuncture and incorporate Chinese herbal medicine to prepare you as fully as possible for the next cycle. The focus of treatment at this time is to establish a healthy menstrual cycle as quickly as possible,to normalise and regulate your hormones after the cycle and to enhance your natural fertility.
If you are starting another IVF cycle straight away or stopping IVF altogether, further acupuncture and Chinese herbal medicine treatment can be tailored to suit your individual needs and circumstances.
What else can I do?
Chinese medicine places great importance on dietary therapy, proper rest and other lifestyle factors to build fertility and enable pregnancy. Many of these lifestyle factors will be discussed during your treatment / consultation. However, it is also possible to have a specific dietary strategy based designed to complement your individual constitutional needs.
back to top