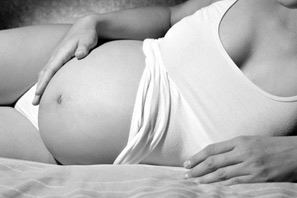 Pregnancy care with acupuncture works to keep you and your baby in optimum health throughout pregnancy. Acupuncture is an ideal form of treatment because it's gentle, effective and offers drug-free relief from common (and less common) pregnancy issues.
Nausea, vomiting, fatigue or back pain aren't just "part and parcel" of being pregnant. Acupuncture effectively treats these conditions and many others to improve your quality of life and help you enjoy your pregnancy.
Perhaps falling pregnant took a long time or required medical intervention? First trimester of pregnancy can be an especially anxious time. Acupuncture in very early pregnancy can regulate stress hormones and relieve anxiety.
Clinical research
Research conducted through randomly controlled clinical trials (and reviews of the published literature) demonstrate that acupuncture provides significant relief for pregnancy nausea, vomiting, back pain, pelvic pain, anxiety and depression.
Doppler ultrasound studies have shown that acupuncture had a beneficial effect on umbilical artery blood flow, prompting researchers to suggest acupuncture may provide a method of preventing pre eclampsia in high-risk mothers. The research also suggests that acupuncture could be useful for treatment of small-for-date babies and intra-uterine growth restriction.
You can read the clinical research about acupuncture for pregnancy care here
Please note that Karen is an ancillary care provider during pregnancy. Your primary health provider is your obstetrician, midwife and/or general practitioner. Karen is dedicated to working closely with your doctor and midwife to provide you with the best possible care.
When can acupuncture help?
| | |
| --- | --- |
| | |
| | varicose veins & haemorrhoids |
| nausea & vomiting, excess saliva | recurrent urinary tract infections |
| | pregnancy induced hypertension / pre-eclampsia |
| | itchy skin (PUPPS, papular dermatitis) |
| | |
| | breech & posterior presentation |
| | pre-birth & labour preparation |
| | natural labour encouragement |
| sciatica, pelvic, back & neck pain | |
| | |
Nausea & Vomiting
Improvement can be expected in as little as 1 – 2 treatments. Acupuncture is provided twice in the first week of nausea treatment and then once a week until the nausea has abated. Training, information and supplies are also provided for self-treatment at home. Simple dietary advice and tips to minimise nausea are also incorporated into these consultations.
At Risk Pregnancy
Clinical research shows that regular monitoring, reassurance and support reduces miscarriage rates. This treatment is also recommended for women who have experienced significant difficulty falling pregnant or who have undergone Assisted Fertility treatment (such as IVF). Acupuncture is usually scheduled on a weekly basis until week 10 or 12. If indicated, gentle heat therapy known as moxibustiion may be incorporated into this treatment and prescribed for use at home. If there is spotting, bleeding or a history of multiple miscarriages, Chinese herbal medicine may also be utilised to secure the pregnancy.
Pregnancy Induced Hypertension / Pre-Eclampsia
Research indicates that acupuncture could be effective in preventing Pregnancy Induced Hypertension in high risk women. It can also be useful once pre-eclampsia is confirmed, especially in its initial stages. Weekly treatment helps to lower elevated blood pressure, normalised uric acid levels and stabilise liver enzymes. Bed rest and ongoing monitoring by your primary health provider is absolutely essential. Pre-eclampsia is a serious condition requiring medical supervision. If there are signs during your consult that your PIH is becoming more serious, Karen will refer you for immediate medical attention.
Breech and Posterior Presentation
Usually, only one or two treatments are required in the clinic. Training, information and supplies are provided so that you can continue simple and highly effective self-treatment at home. Intervention with Chinese medicine is most efficient at week 34, although a positive outcome is achievable at 39 weeks.
Pre-Birth & Labour Preparation
Pre-birth acupuncture is recommended once a week at 37, 38 and 39 weeks to prepare the cervix and pelvis for birth and to promote an efficient, natural labour. Studies in New Zealand showed that the mean duration of labour in a group of women giving birth for the first time was reduced from 8 hours 2 minutes in the control group to 6 hours 36 minutes in the pre-birth acupuncture group. In addition, midwives in New Zealand report that pre-birth acupuncture reduces the rate of medical intervention during labour.